Learn more about our staff
Every professional in the music domaine loves transmiting his or her passion.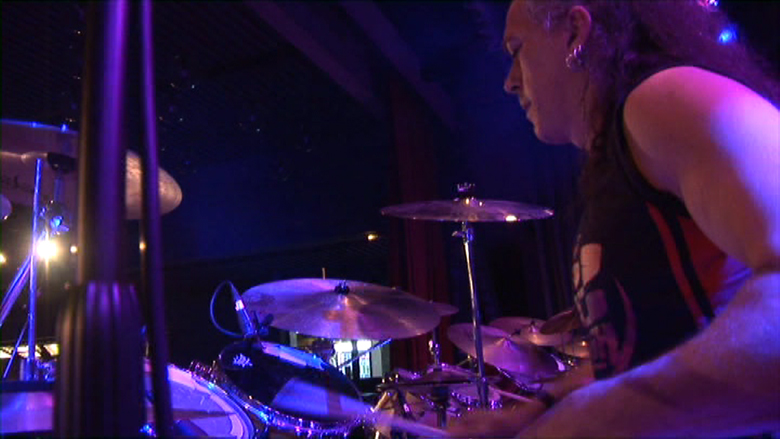 Al Widmoser
Director - Professional drummer
He is a musician originaly from Tyrol, Austria. After 5 years of studies in perccussion at The Innsbruck Conservatory (Aut), He did the "Dante Agostini" formation at Münich for another 5 years. Under the mentorship of Cloy Petersen, directeur of "drummers focus", one of the most saught out coaches for drummers in Germany. Al, has played with a great number of Rock and Jazz bands in Austria, while teaching the drums and directing percussion ensembles and wining several championships.
He arrives in Geneva in 1987, where he founds Drums & Percussion Center in 1988, and teaches using his own methods. He has formed several school professors asuring their continuous formation.
His school finds succes quickly, based on his methods both easy-going and technique that will stand the test of time. Many talented drummers you'll see on stage as well as music professors have taken and followed his methods.
Al Widmoser is also well known for his public présentations with hes students. (50 drum kits in front of the "Grand Thèatre" or 100 drum kits at the "Parc des Bastions") Spectacles that have shown his creativity, and his quality as a teacher and director.
He is also the creator of original and breathtaking spectacles that combine percussion, street theater, dance, and song, in particular with his group Zhorn.
his motto : « Rhythm is life » of course!
DRUM ENGLISH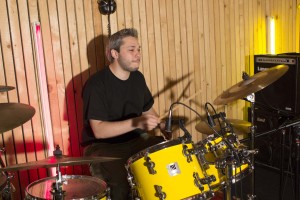 Luis Penedo
Drum Teacher - In charge of the recording studio as of 2012
Born in Guatemala in 1985, his first introduction into music started at age four with classical piano lessons which he continued for twelve years. At 14 he started playing his father's guitar for fun, and he started composing music of his own.
Driven by the need to record his own music he starts delving into the world of sound engineering at the age of 17.
At age 18 he began drum and guitar lessons at Poliritmos academy. After finishing school he studied audio engineering at Galileo University, Guatemala.
His knowledge of piano, guitar, drums, and audio, led him to record, produce, arrange, and play for several artists and bands as well as his own bands Mofongo and A Ver A Cristo. With Mofongo and A Ver A Cristo. The bands have played in several countries in latin américa.
He arrived in Geneva in 2011 and currently teaches drums, guitar, and piano.
He is currently in charge of the studio at Drum where he works as a sound engineer, producer, and arranger. He has experience in many musical styles which range from Classical music to more contemporary styles such as Latin, Funk, Blues, and Rock.
DRUM ENGLISH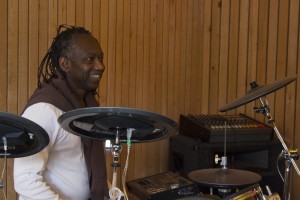 Dan-Djuma Legos
Drums and Percussion Teacher
Born in Central Africa, he took his first music lessons before he was minus 9 months old (in his mother's womb to be precise). He started his musical journey as a self-taught musician when he was 16 years old. He studied jazz and sound engineering techniques at the Conservatoire Populaire (Public Conservatory).
When he is not teaching, he works as a musician, composer and artistic director in several musical projects.
Bands: Muziki (Central Africa), Kokombo Star (Paris), Iska (Genève), Malinga afrodisiac (France, Ht Savoie).
Participations with other musicians: NOGA, AL WIDMOSER, PRINCESS LEONIE, J.B. MEIER. BiIG BAND "LE BOCAL* etc…
Musical influences: He enjoys any "good music" but he loves FELA ANNIKULAPO KUTI.
Project: Continue playing, creating and teaching others to love music.
Quote: "Art is a key that allows the poor to enter into rich people's homes and the rich to enter into poor people's homes. The difference is that at the poor people's homes the door remains mostly open".
Other remarks: "I adore modern architecture and design, the baobabs, Fondue, the Alphorn and Hope".
DRUM ENGLISH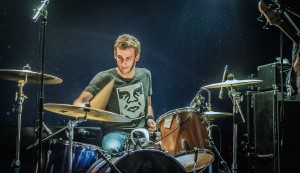 Sylvain Messerly
Drum Teacher
He grew up in a family of musicians and started his musical formation at the age of 7. Encouraged by his parents, he was devoted to his instrument obtaining a DFE (Diplôme de Fin d'Etude) degree. He participated with many local bands but it wasn't until later that he discovered the power of music and the pleasure of playing his instrument. He then joined a Big Band, a Raggae band, a pop band and finally a Rock band.
Later, he completed studies in audio technology in order to increase his understanding of sound and drums, consecrating his life to music.
Sylvain joined Drums and Percussion Center in 2013, where he has enhanced his drumming abilities taking courses with Al Widmoser.
DRUM ENGLISH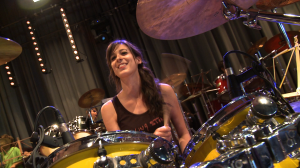 Jessica Ode
Drum Teacher
Since she was very young, she dreamed of playing the electric guitar. At the age of 14 she took guitar classes for one year. At 17, she worked as a salesperson in a musical store, increasing her musical knowledge and developing a particular interest for drums.
Self-taught, she started drumming for a few months. In 2009 she became the drummer of the band Newstorm. Therefore, Jess became conscious of the importance of music in her life.
In 2012, she started working as the receptionist at Drums & Percussion Center! She continued her formation with Al Widmoser.
Band: ALICE'S BURROW
Stiles: Hard rock, Rock, Métal, Drum'n'Bass
Drummers: Ray Luzier, Jojo Mayer, Lars Ulrich and Travis Baker
Projects: that info is confidential!
Quote: "While there is life there is hope"
DRUM ENGLISH